Saw Blade
Saftest Saw Blade
YIH TROUN's patented clamping design structure ensures the stability and strength of carbide insert locking. It possesses decent clamping function and tool life even under high cutting speed. Better clamping system brings higher production efficiency. Maximal speed of 17200 RPM is certified by Sweden.
Multifunctional Saw Blade
1. Same cutter applicable to inserts of:
A. Different insert grades for different materials



Machining for aluminum, stainless steel, heat resistant steel, cast iron, titanium and inconel. All of them are able to choose different insert grade and satisfy countless machining requirements promptly.
B. Different insert thickness
Cutter outer diameter: 50 ~ 300mm
Insert thickness: 1.4 ~ 5.5mm
Universal saw blade: One cutter can apply to multiple insert thicknesses and different machining material.
For example: On the cutter with thickness of 2.0, insert thickness of 2.0 / 2.2 / 2.5mm can be replaced.
C. Different insert form: Providing multiple choices regarding bottom shape of groove machining and improves difficulty of chip evacuation.

D. Industrial application: Parts for automobile and motorbike, medical parts, nuclear parts, mechanical parts and aerospace parts
2. Patented Clamping System
A. Patented embedding system: Horizontal clamping design, it possesses strong clamping force even during high-speed machining.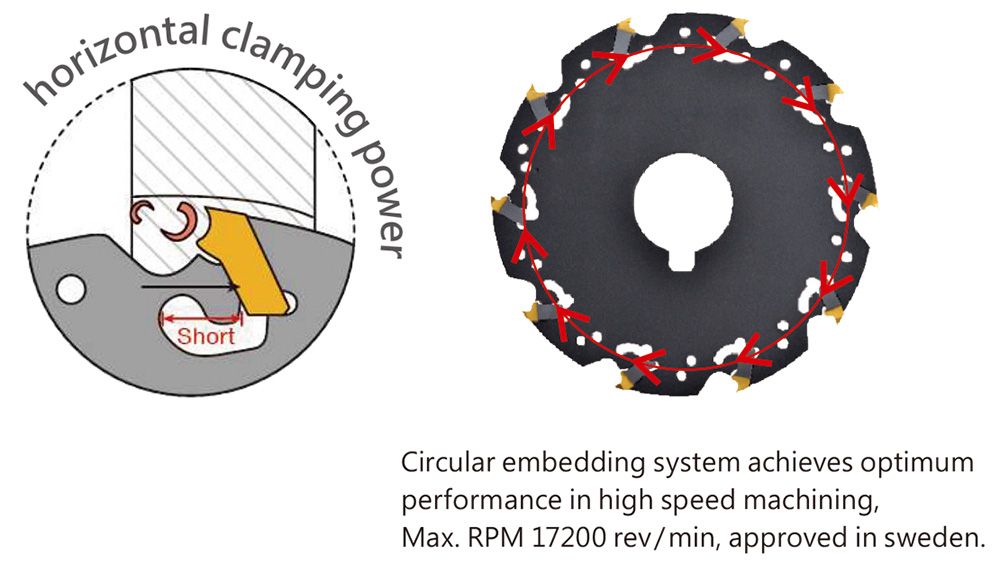 B. Patented chip evacuation system of YIH TROUN:
Insert possesses patented chip breaker groove design which is effective for chip breaking and evacuation. Its effect is even more obvious especially by deep groove machining and full tool engagement.
It can achieve better machining alignment, reduces machining vibration to achieve better machining stability and cutter strength.
Relatively low machining resistance can effectively raise machining efficiency.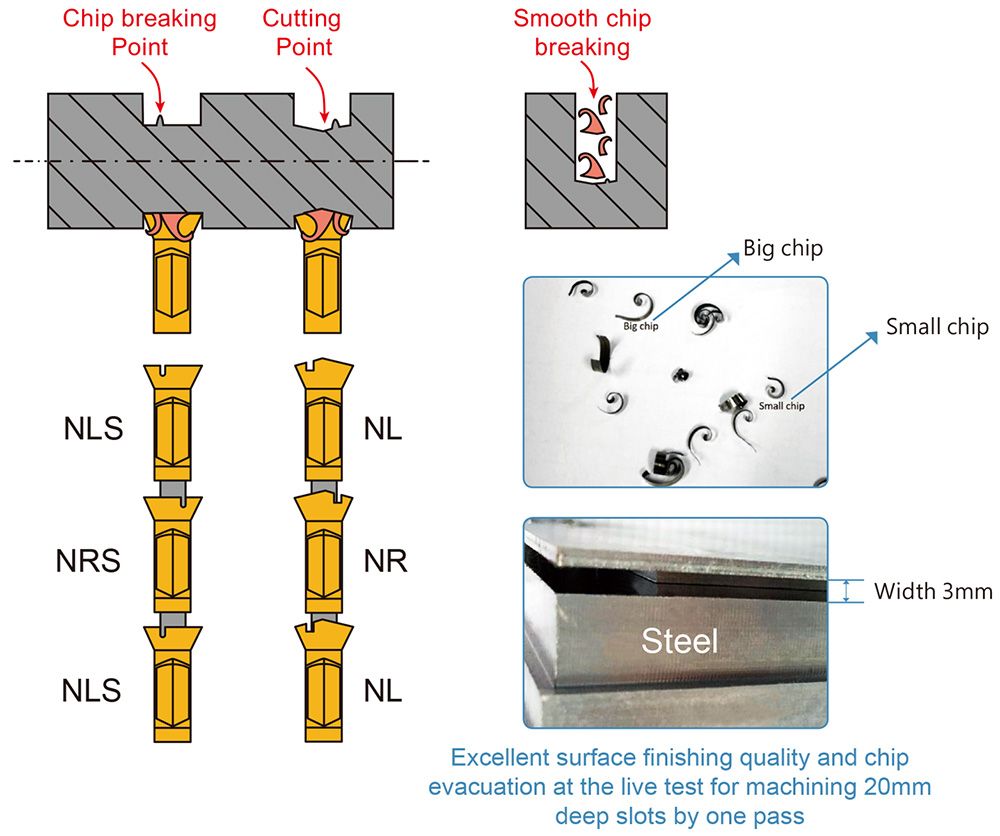 C. Interrupted cutting:
LNGT series' full rounding insert design utilizes principle of point cutting, it is suitable for interrupted cutting, especially when there are many drill-hole surfaces inside during slotting.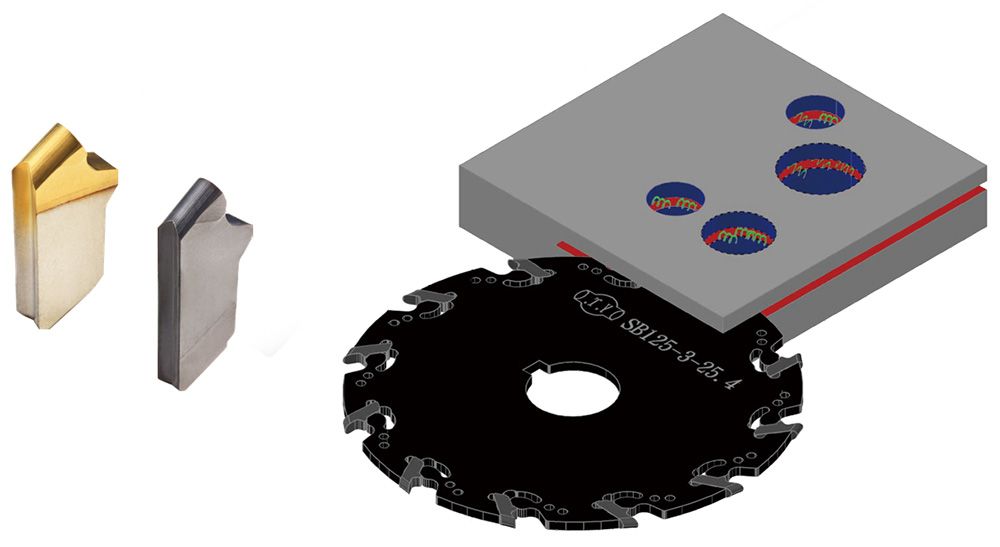 D. Insert clamping system:
Wrench with special design is easy to install and remove inserts.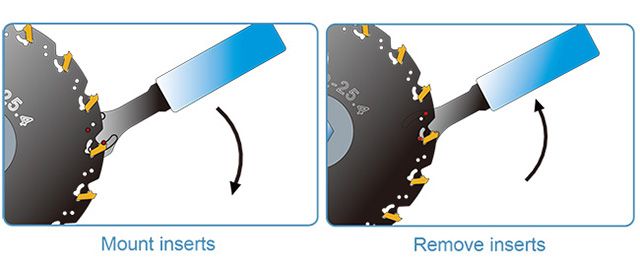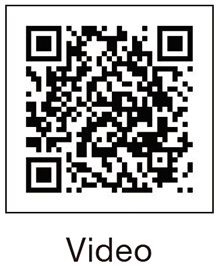 E. Comparison with chip evacuation design of other brands:
Various machining obstacles easily generated. Design flaws as below:
By machining with deep slitting / slotting, chips easily block within the groove of work piece
Larger vibration during machining and larger machining resistance
Worse machining efficiency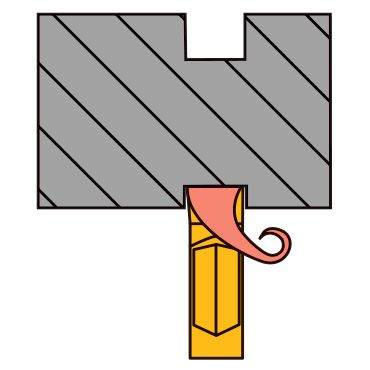 F. Introduction of comparison with solid type saw blades from other brands

HSS blade: machining cutting speed is slow. If machining speed is raised, saw blade will rapidly wear out.
Brazed carbide blade: hardness of base material is already damaged after brazing with high temperature.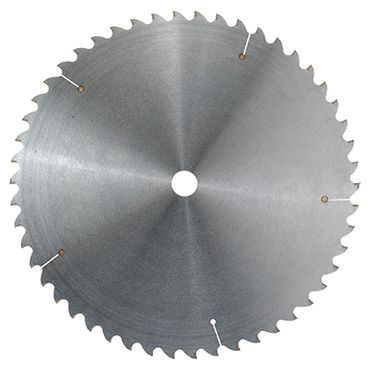 ---