Indexable UFO Mill Series
Design concept of UFO MILL
The positioning design of taper polygon+ central cylinder
The concentricity of central cylinder: ± 0.005mm
The special taper polygon combined with the central cylinder which is researched and developed with YIH TROUN patent. Due to high impact load this fully ground with three-sided contact positioning, making the tool holder and carbide head more tightly and stably combined during high-speed milling, which could effectively avoid the problem of slipping and detachment during long-term cutting, it makes machining more stable and durable to achieve excellent tool life.
Multi-nations innovation patents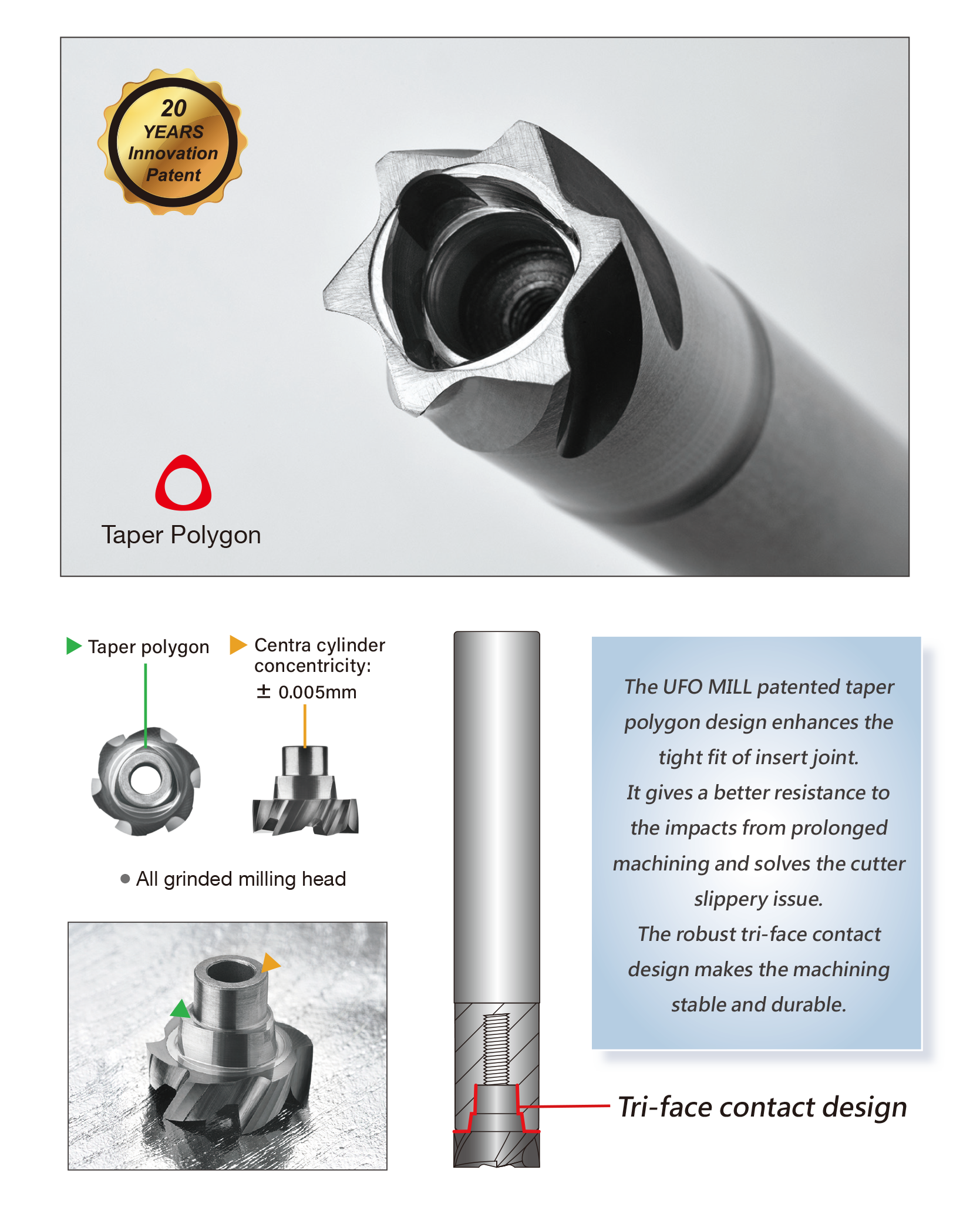 Product advantages of UFO MILL
The indexable UFO MILL breaks the traditional one-piece concept. It is designed as a combination of the tool holder and the carbide head can be exchanged to form a simple, efficient and intelligent tool. 41 patented tool holders can be fitted with 288 different carbide heads into 1680 different applications. The carbide head is sintered with ultra-nano carbide powder mixed with rare metal, which improves not only the tool life, but also has the best performance in speed efficiency. In addition, the special geometry angle greatly improves the chip breaking performance and reduces the heat generation during machining effectively. The multi-tooth design can shorten the machining time during cutting, which reduces not only the machining cost, but also improves the competitiveness of orders.
Four designs and two materials for the UFO MILL tool holder:
Four designs: cylindrical type, slim neck type, turn-mill machine type, screw type
Two materials: high-speed steel, tungsten steel
Length of tool holder: 60-180mm
Patented UFO carbide head
Square milling head / high-feed milling head / high-feed chamfer milling head
With the rising price of carbide raw materials, YIH TROUN's replaceable, small carbide head is the solution to this problem. Other advantages are:
1. Cut inventory costs in half: Only 288 kinds of carbide heads can be combined into 1680 kinds of machining applications, and there is no need to stock each size like carbide end mill.
2. Save tool replacing time: When replacing the cutter head, it is not necessary to remove the tool holder, which saves time for repeated tool calibration and tool changing.
3. Precise Radius: IIn order to machine a precise radius, customer usually process it with carbide endmill, but now there is an indexable tool solution by only changing different radius carbide head. Besides, there are also a variety of angles to be choosen from R0.5/ R1.0/ R1.5/ R2.0.
4. No need to regrind: In the past, there was a regrinding service for carbide end-mill. The disadvantage is that:
A. It's usually collected and sent for grinding when there are several carbide end-mill need to be reground. At the same time, the factory also needs to have additional carbide end-mill for the machine to use. Regrinding seems to save costs, but it increases the inventory and management costs of carbide end-mill.
B. The tool-life of carbide end-mill after regrinding is usually shorter than the new one. For high-quality regrinding, the cost is high.
C. Additional cost for coating is required for regrinding.
No regrinding and no additional inventory are required to use the YIH TROUN's UFO MILL. Replace the carbide head with a new one as soon as it is wear out.
5. Surface finish:
The excellent concentricity tolerance of YIH TROUN's UFO MILL is ±0.005mm, which can achieve very good surface finish. Most of the workpieces can be done in roughing and finishing in one step by UFO MILL.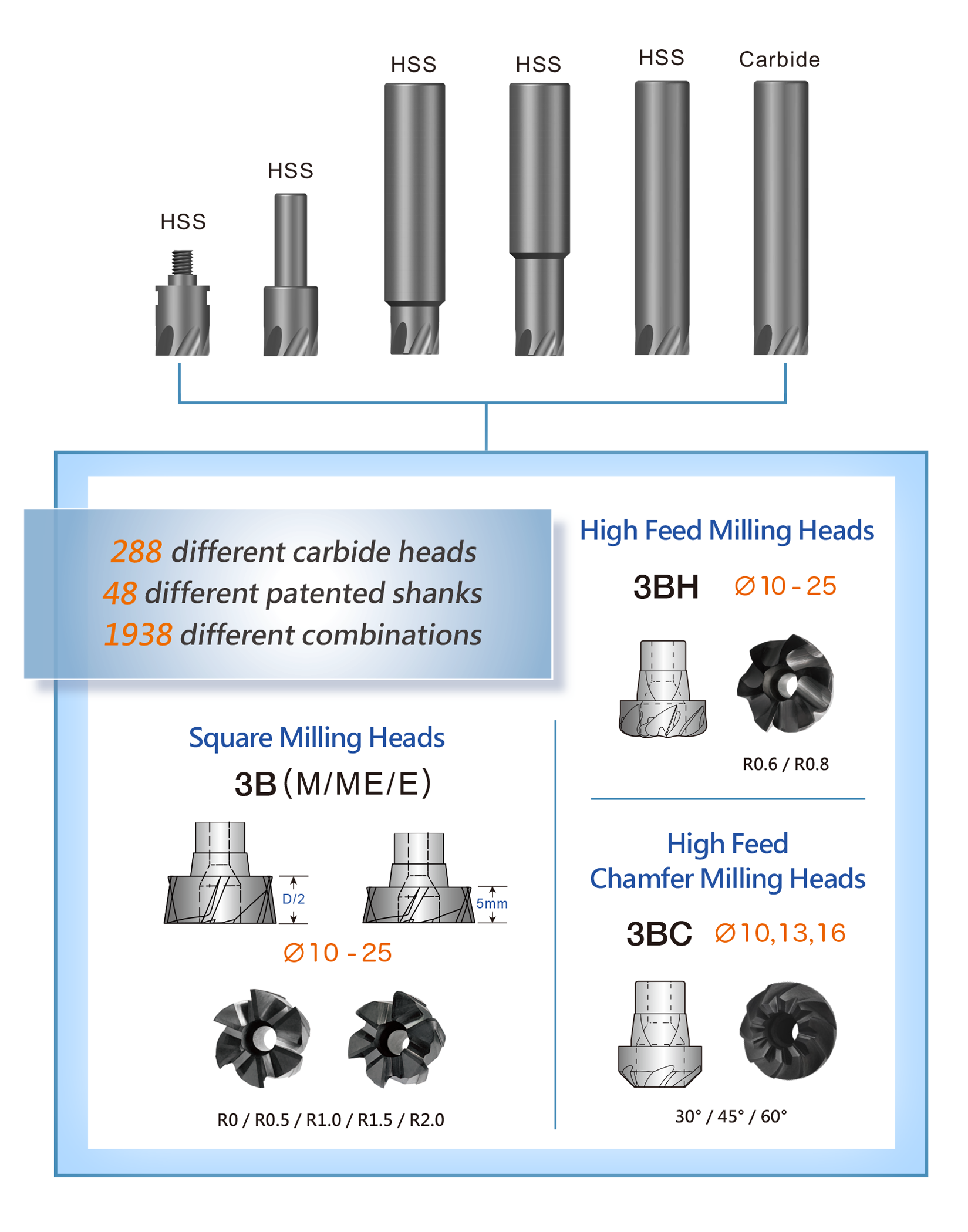 6.The advantage of multi-teeth: Compared with the indexable insert tool, the YIH TROUN's UFO MILL has more teeth at the same diameter. Taking the diameter of 16mm as an example, the YIH TROUN's UFO MILL has 6 teeth, and the indexable insert type has only 2-3 teeth.
7.Cost-effective: Especially when UFO MILL is used in below machining circumstances:
A. Large diameter carbide end mill
B. Customized end mill
C. The step end mill, for example dia. 13 head with dia.12 shank
D. Long shank end mill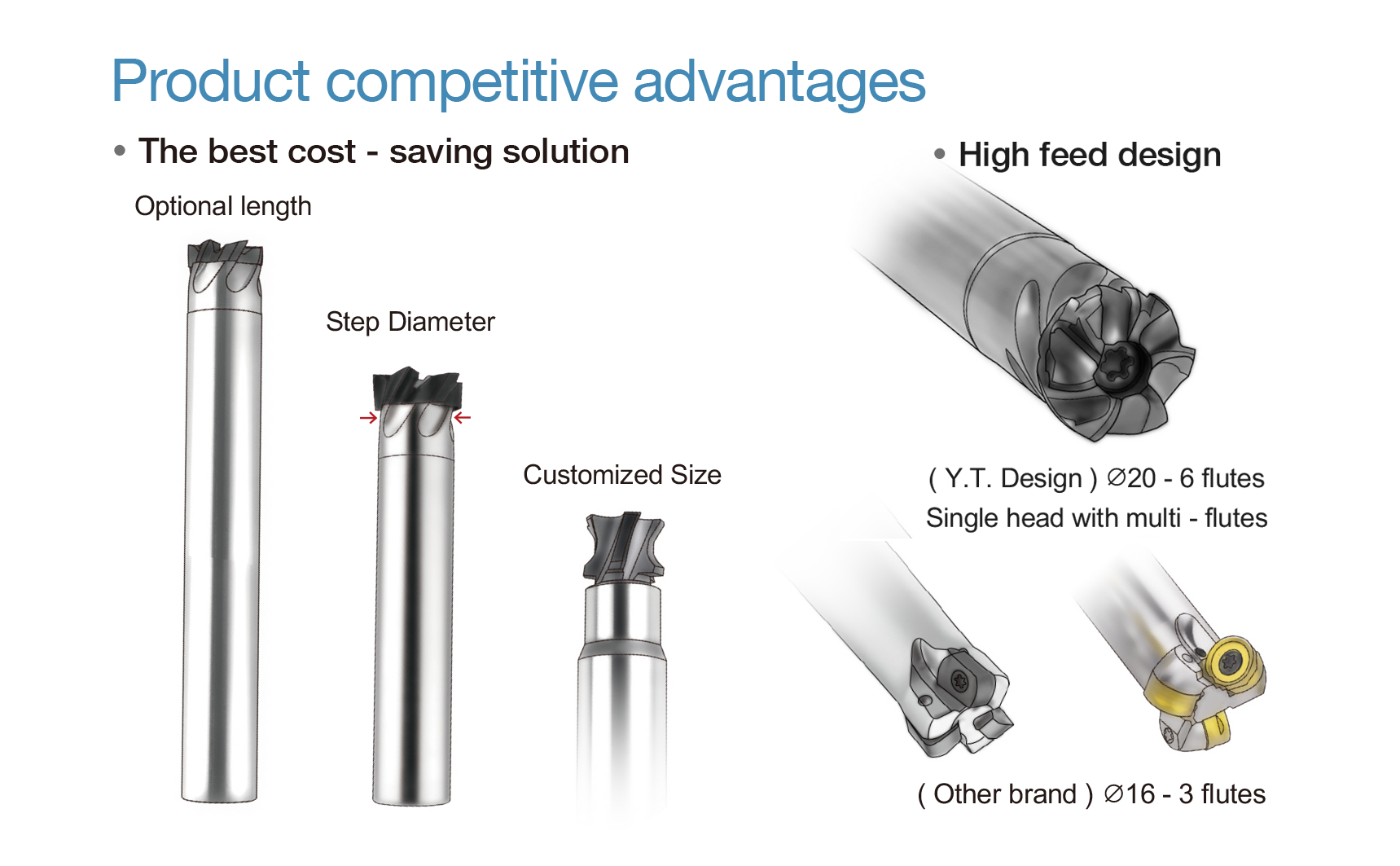 Applicable industries of UFO MILL
The UFO carbide head is sintered with ultra-nano carbide powder mixed with rare metal and designed in special cutting geometry. It achieves great performance particularly in the following fields :
1. Various difficult materials such as:
Hardened steel / stainless steel / super alloy / titanium alloy, etc.
2. High-feed milling in a great volume of metal removal
3. Groove milling, face milling
4. Surface cleaning for mass-produced cast and forged parts
5. Long overhang in deep machining, especially for applications with shallow machining depths (Ap).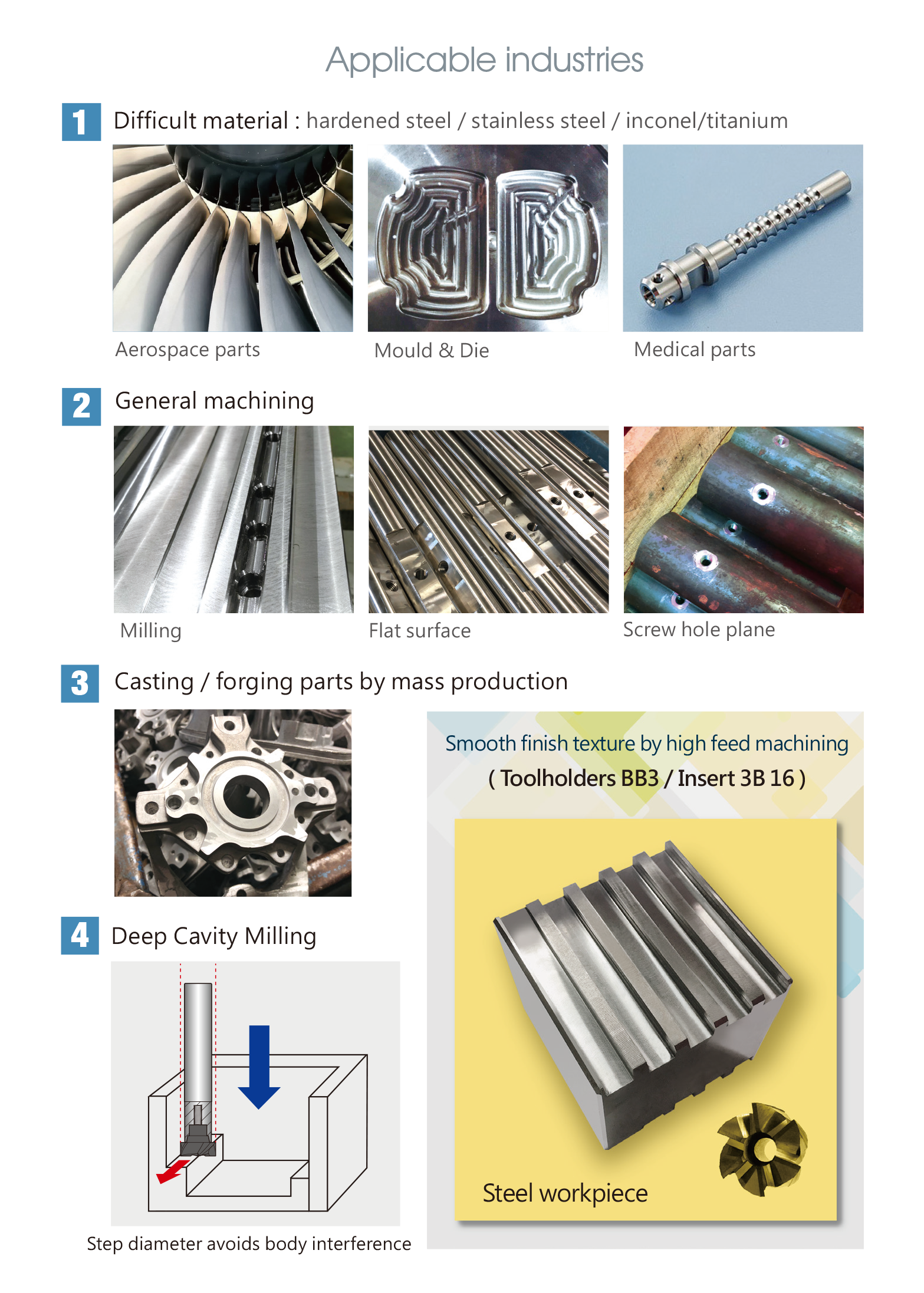 ---

4 designs and 2 materials for the UFO MILL tool holder: Four designs: cylindrical type, slim neck type, turn-mill machine type, screw type Two materials: high-speed steel, tungsten steel Length of tool holder: 60-180mmThe special taper polygon positioning design of YIH TROUN's UFO MILL tool holder can firmly and closely combine the tool holder with the carbide head, it reaches good stability during high-speed milling, especially suitable for shallow surface machining, 4 kinds of tool holder designs can meet the various machining equipment and machining conditions, and can be applied to various difficult-to-cut materials for machining , such as hardened steel/stainless steel/super alloy/titanium etc. Another carbide tool holder is optional, it has great performance in following situations: 1. Excellent stability is very suitable for high-feed milling. 2. Excellent tool life in mass production machining. 3. Excellent in anti-vibration, especially suitable for long overhang machining. 4. It is recommended to be used on various difficult-to-cut materials, such as hardened steel / stainless steel / super alloy / titanium alloy and other materials. All tool holders are equipped with screws and wrenches produced in Switzerland

---

---

YIH TROUN's latest UFO carbide head is sintered with ultra-nano carbide powder mixed with rare metal and designed in special cutting geometry. The special helix angle and the geometric design of the cutting edge can be applied to various difficult-to-machine materials. Different coatings and cutting edge's geometry design are corresponded to different machining materials, such as steel / cast iron / hardened steel / medical stainless steel / titanium alloy / high nickel alloy / aluminum / copper, etc., these all have different corresponding milling head options, they could achieved very good machining benefits.The latest design of UFO milling head, divided into: 3B UFO milling head, 3BH UFO high-feed milling head, and 3BC UFO high-feed chamfering head. Their applicable angles and machining procedures are all different. The new 3B UFO milling head is more attentive in classification, which are three series of M / ME / E, they are selected in different machining material applications. The standard carbide milling head has an outer diameter of ∅10 ~ ∅25, and the corner radius is divided into: R0, R0.5, R1.0, R1.5, R2.0 etc., combining five patented designs of high-speed steel and carbide tool holder. It can play a more durable machining effect in different machining ranges and conditions, and can make the machining process more stable and durable. For detailed specifications, please refer to the product description of each item of carbide milling head classification.

---
---