Chamfer Milling Cutter
For CNC machining chamfer cutter, we offer 2 different cutters in indexable design:
A. MC / HMC Cutter
B. C Cutter
A. MC / HMC Dual Chamfer Milling Cutter
It is absolutely another good cutting tool to save your time and cost!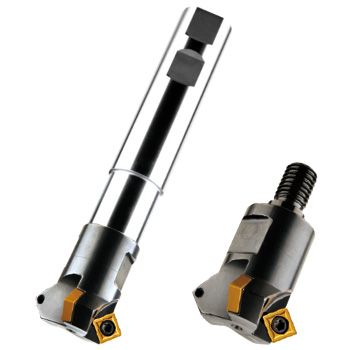 1. Save Time: Upper / lower chamfer can be finished by the same tool without tool replacement, e.g. hole inner chamfer or edge chamfer.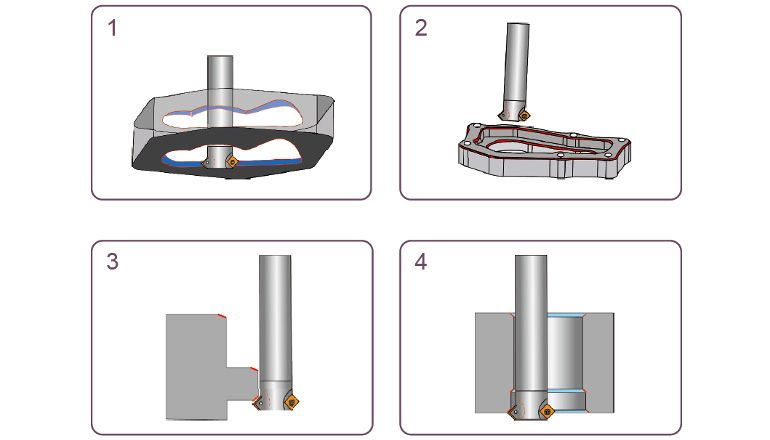 2. Save Cost: E grade grinded carbide insert has 4 applicable cutting edges. One insert is shared by 4 cutting edges, cost for single cutting edge is thus very economical. In case that deeper hole chamfer is required, there is HMC screw-in design available. Length of the extension shank is up to 220mm. Hole diameter for min. chamfer starts from 11mm.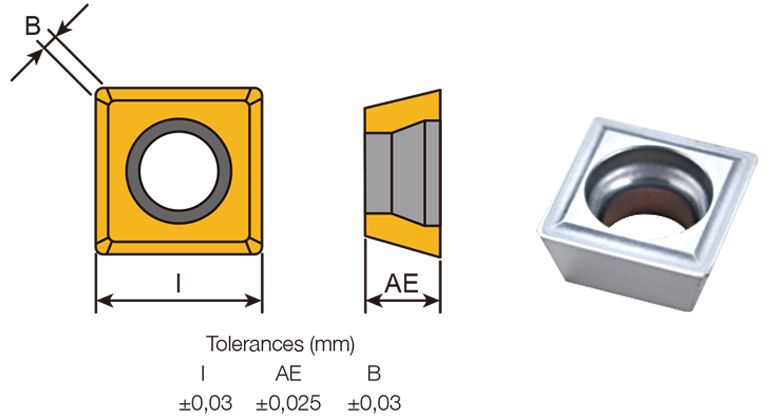 B. C Chamfer Milling Cutter
It can be used for vertical or horizontal linear movement on spindle for hole chamfering, or for various chamfering by CNC with program. Two chamfer angles are 30° and 45°.
Hole Chamfer  Edge Chamfer with Program Hole Chamfer with Program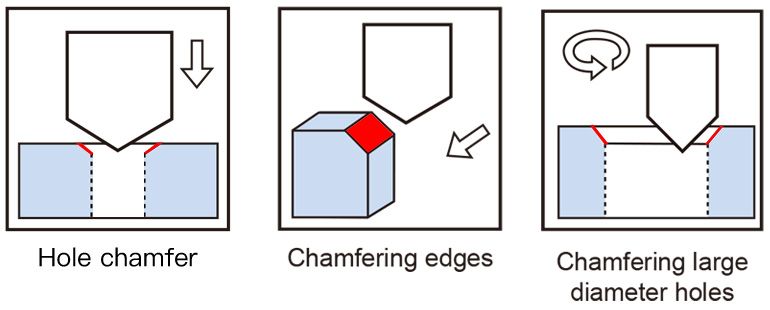 Holder uses pre-harden steel material. Strength of holder is better and equipped with screws and keys imported from Swiss. Tool life is thus raised comprehensively.
G-grade grinded carbide insert has totally 3 sizes:
XDGT 1203 (Edge length 12 mm)
XDGT 1904 (Edge length 19 mm)
XDGT 4004 (Edge length 40 mm)
Among them, longest chamfering insert is 40mm with very long chamfer edge length. There will be no step line generated during machining of big chamfer. Besides, there are 3 carbide grades and 3 insert geometries for machining of various work piece material.
Minimal hole diameter with chamfer of entire series D1: 10mm. Max. hole diameter with chamfer D: 70mm. In order to provide better machining efficiency, effective no. of teeth are 3 teeth by minimal hole diameter with chamfer D1: 17mm.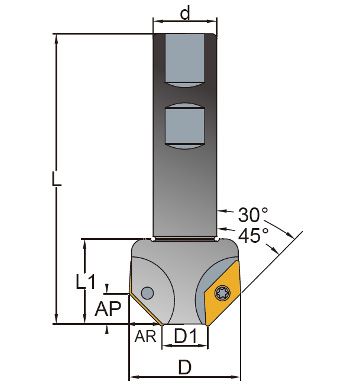 ---