Chamfer King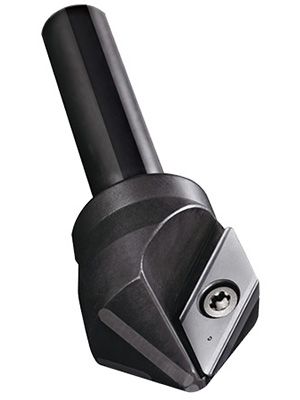 Chamfer King
Chamfering is a necessary basic process for machining. Its main purpose is to remove burrs generated on parts due to machining. Adding chamfer on parts is also for easier assembly of parts. Chamfers can be classified as several angles such as 60° / 90° / 120&deg.
90° is the most usual one among them. In application, they can generally be classified into edge chamfer, hole chamfer or back chamfer.
Hole chamfer
High-speed steel chamfering cutter is mostly used for countersink on current market. Chamfering cutter will be discarded or reground as they are worn out. However, reground chamfering cutter has the problem of lower tool life or uneven tool life. Besides, additional inventory of chamfering cutter needs to be prepared for the usage of regrinding. This way is not only wasting material, but also needs frequent tool replacement due to poor tool life of high-speed steel chamfering cutter. Therefore, although high-speed steel chamfering tool is cheap, it is actually not cost-effective after calculation of overall costs.
Patented carbide stripe tool back design
Chamfer king uses indexable carbide insert. Carbide insert can achieve quite good tool life because its hardness is higher than high-speed steel. It is generally for making of cutting tool used for CNC machining. However, because physical properties of carbide insert are not suitable to be used on instable machining, there are thus few indexable carbide cutting tools used on drilling machine. YIH TROUN has developed special patented carbide stripe chamfer king to overcome this difficulty and accomplish the possibility of using indexable carbide insert for machining on drilling machine. Carbide stripe design can lead to different balance angle and raise the balance during machining. Therefore, only one piece of carbide insert is needed for machining. It can be used even on instable drilling machine, radial drilling machine, electric drilling machine, and no burrs are generated by chamfering. Carbide insert is not only economical and practical, but the tool life of insert is also even several times higher than original high-speed steel chamfering cutter. It can even achieve better hole roundness. With convenient indexable chamfering cutter, users don't need to regrind high-speed steel cutting edge each time, only replacement of carbide insert is necessary.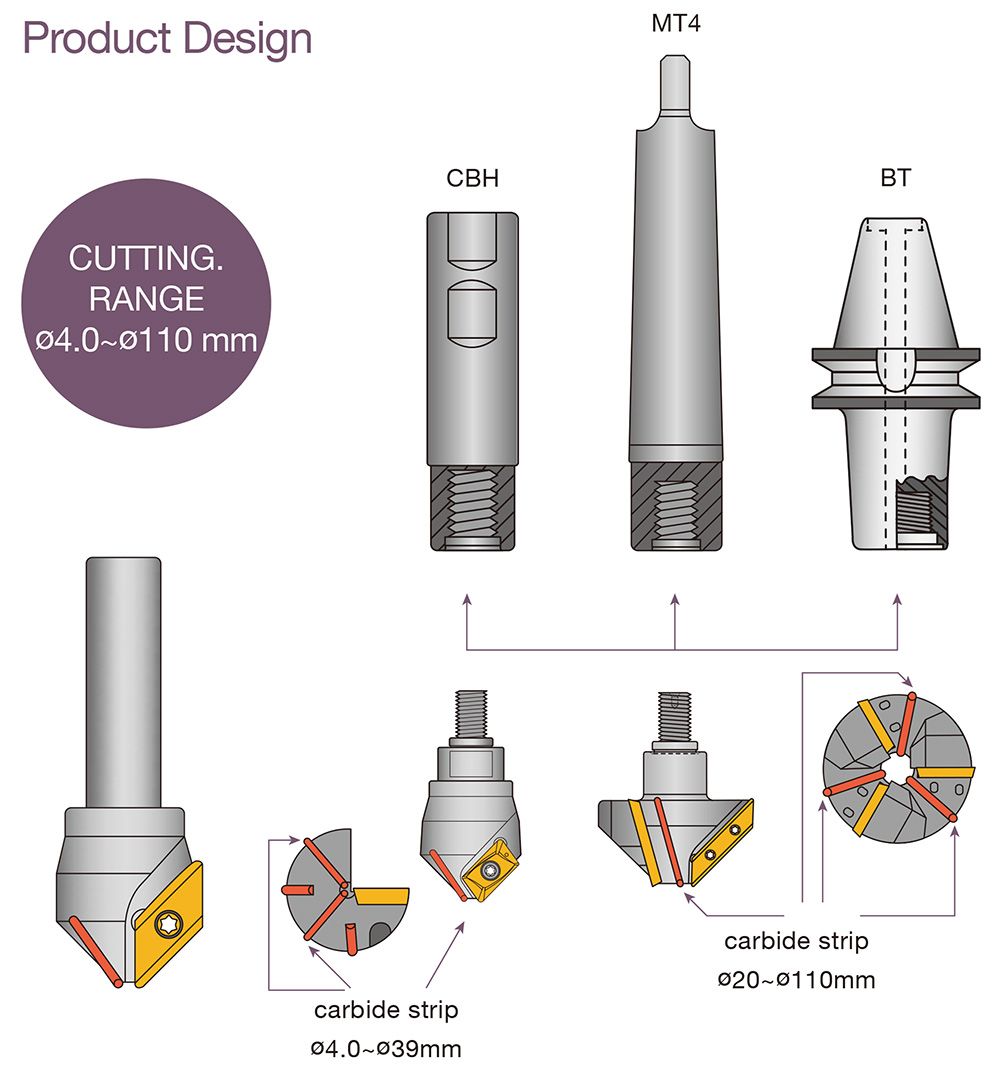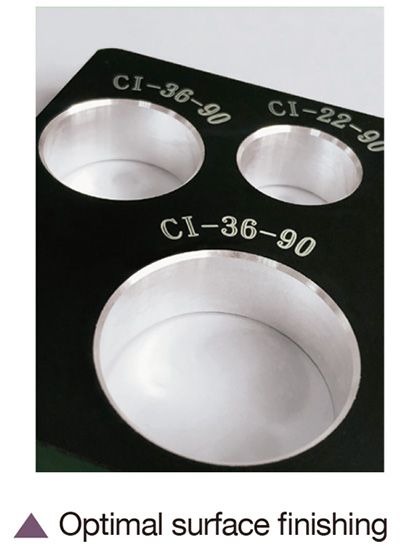 Complete Dimension Include 4 Chamfer Angles: 60° / 90° / 100° / 120°
60° of chamfer generally used of hole chamfer which is used to place mold pins. Due to smaller chamfer angle, it is easier to align with the position during placing pins.
90° of chamfer: The most popular chamfer angle, applies to most deburring and assembly application.
100° of chamfer: Applies to special screw head chamfer angle for aerospace.
120° of chamfer: It generally applies to creating a shallow chamfer during tapping on thin plate in order to increase the length of thread and thus increase the number of valid threads.
Chamfer hole diameter of entire series from min. Ø 4 mm to max. Ø 110 mm:
1. Extension Shank: When machining of deeper hole chamfer is required, extension shank is up to 300mm
2. Morse Taper Arbor: It is convenient to be used on radial drilling machine for tool replacement or be on equipment equipped with Morse arbor
3. Flat holder used on drilling machine collect chuck.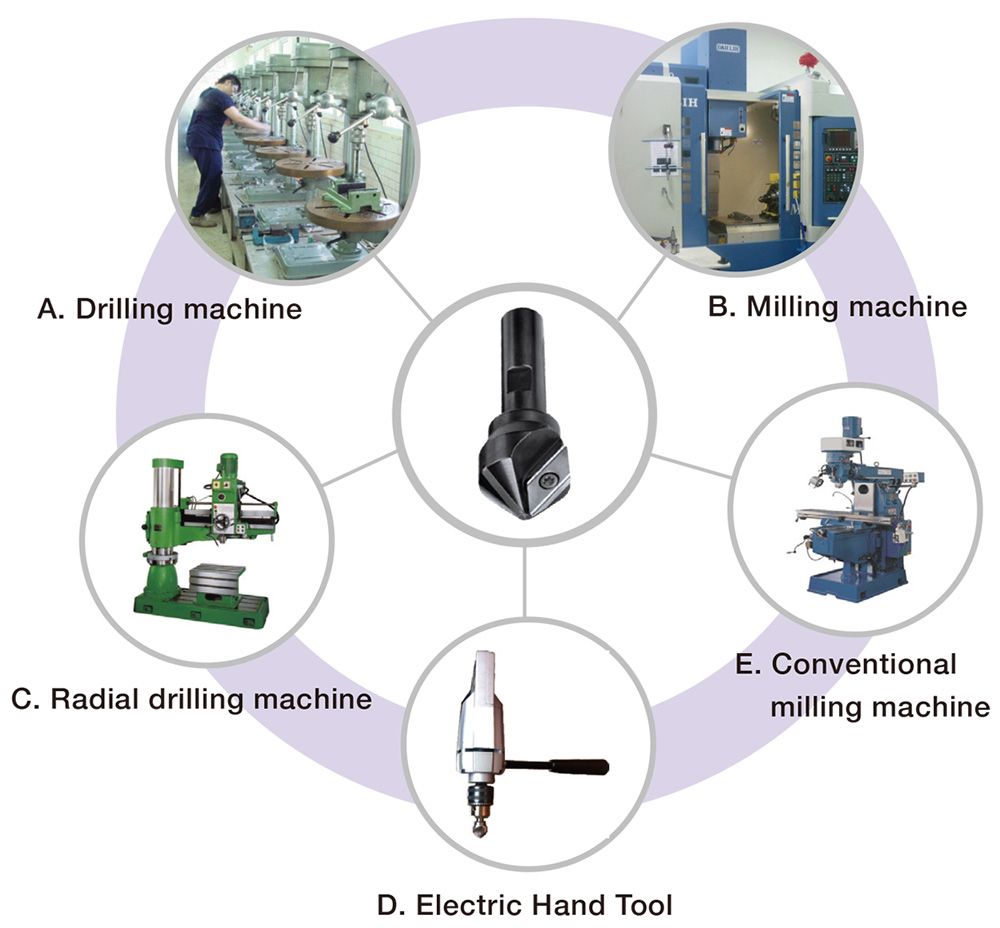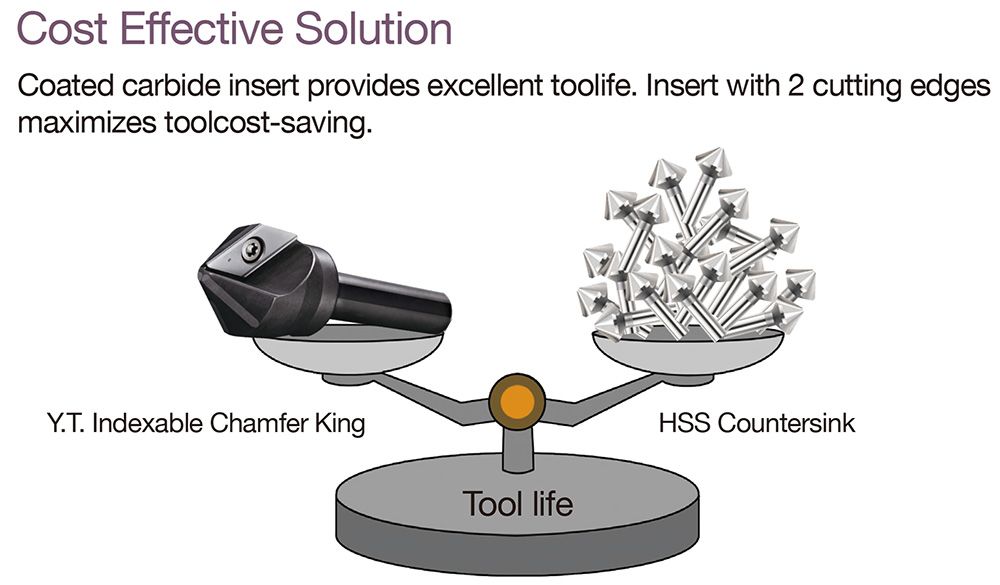 ---