Best Sale
40 Years Indexable Milling Cutters Manufacturer | Y.T. / YT / YIH TROUN
Based in Taiwan, YIH TROUN ENTERPRISE CO., LTD., since 1977, is an indexable cutting tool manufacturer that has over 4500 standard indexable cutters and 30 patented designs. Focusing on developing highly efficient Indexable Tools to reduce cost and reach maximum productivity.
Y.T. / YT / YIH TROUN is the only company in Taiwan to manufacture indexable shank holder together with unique core technology for carbide insert sintering and grinding. Precision slotting, slitting and cutting tools, including indexable saw blades, side and milling cutters and transformer t-slot cutters.
Y.T. has been focusing on developing indexable cutting tools to meet the challenges of machining industry to increase efficiency and reduce cost. Y.T. indexable tools have been developed to enhance the performance of the machine to help the manufacturer's production competitiveness. With easy to clean, heat resistance and high quality indexable high speed cutter and indexable taps, in addition to 40 years of experience, Y.T. / YT / YIH TROUN ensures each customer's demands are met.
BIEMH 2018
2018/05/28
Y.T.
Welcome you to come and visit us to know our innovative products.
The exhibition, that in 2018 is to be presented under the title "BE IN, BIEMH" will focus on issues such as Industry 4.0, innovation, internationalisation, systems integration and productive intelligence with the clear goal of bringing business models closer to strategic sectors of the economy. The participation of some of the world´s leading machine tool companies has made BIEMH one of Europe´s most outstanding exhibitions in this particular speciality.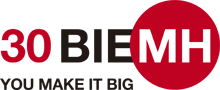 Booth Information
Exhibition time: May 28 - June 1, 2018
Location:Bilbao Exhibition Centre, Barakaldo
http://biemh.bilbaoexhibitioncentre.com/en/